We are elated to announced that today 320 acres closed escrow and are now permanently protected. The land, named after its owners: First National Investment Properties (First National), includes ridgelines visible from the popular Lower Aliso Canyon Overlook (as shown in the banner image). View our Press Release.
Also, on June 28th, the second and final phase (80 acres) of the Eastbridge acquisitions closed escrow on the ridgeline lands identified in Lower Aliso Canyon. Both properties have been on the "must have" list for Hills For Everyone (HFE) and the California Department of Parks and Recreation for over 40 years.
The Mountains Recreation and Conservation Authority (MRCA) has been an incredible partner on these transactions by taking title to the land until State Parks is able to do so. And a big shout out to The Conservation Fund (TCF), who managed this acquisition for Phase 1 of the First National property transactions. We plan to collaborate on the next two phases with the same landowner and TCF to get those lands preserved as soon as possible!
(Click on the map below to enlarge it and view it as a PDF.)
In other news, last October the Governor issued Executive Order N-82-20. This "order" set a target to conserve 30% of California's lands and coastal waters by 2030. It is known as the 30×30 campaign. We still need to save an estimated eight million acres statewide to meet this minimum.

In partnership with the regional non-profit Friends of Harbors, Beaches and Parks (FHBP), we have a second announcement. HFE used the FHBP Green Vision Map to identify 275 available properties across Orange County and into neighboring counties of Los Angeles, San Bernardino, Riverside, and San Diego. This totals more than 30,000 acres of possible conservation lands.

HFE assembled the maps and FHBP assembled the coalition. Thirty-one organizations supported the conservation of these properties. As a reminder, lands can only be purchased from willing sellers when using state and federal funds. From this mapping exercise, we now know that in the Puente-Chino Hills alone there are over 13,850 potential acres. These properties are documented in the Puente-Chino Hills (West, Central, and East) maps, plus portions of the Santa Ana River (Canyon) map.

Check out the coalition letter submitted to the California Natural Resources Agency last Friday. Included on our website are the maps which detail the possible 30×30 targets. Fingers crossed we gain some collective traction to support additional conservation work through the 30×30 campaign!
(Click on the map below to enlarge it and view it, plus all the associated maps, as a PDF.)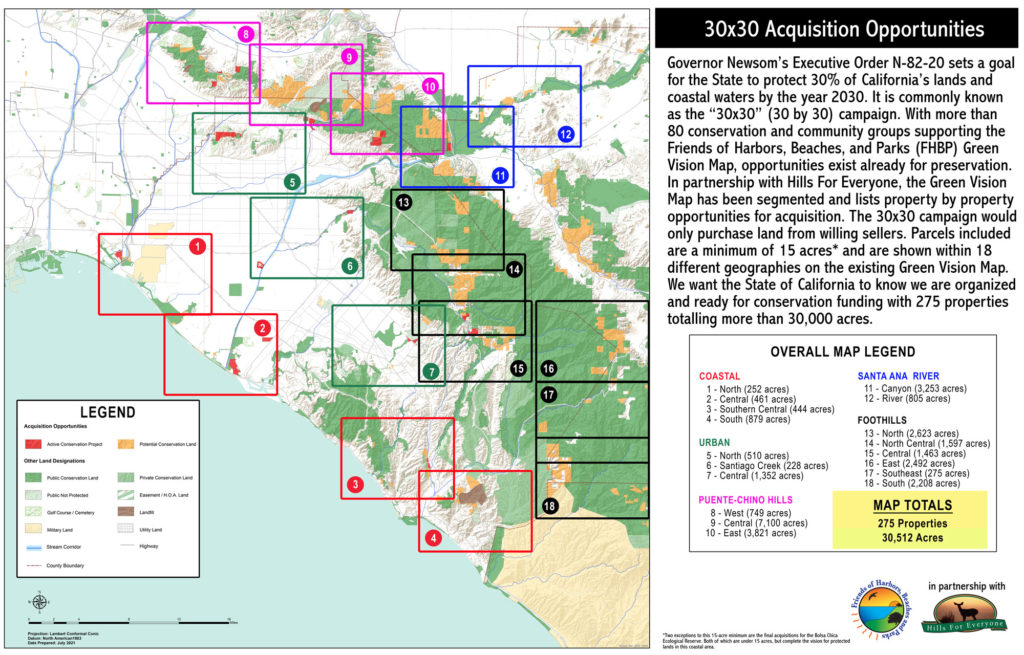 We again hope you are able to celebrate with us (remotely) these important conservation wins for our region! We are only able to do this work because of tax-deductible donations made by our supporters that allow us to be involved in these conservation transactions. We remain steadfastly committed to the goal of protecting additional lands for the region and ensuring the habitats crucial for wildlife remain protected.