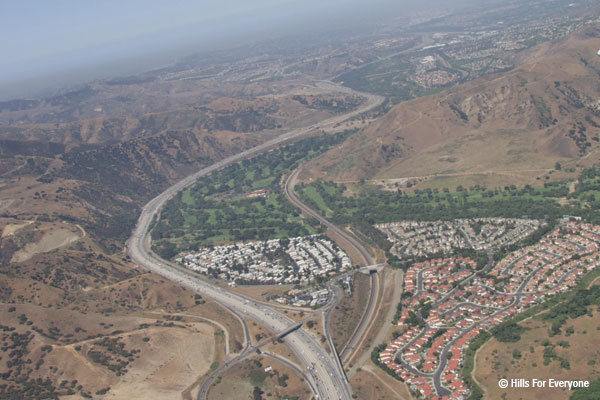 Unbridled residential growth in the Inland Empire coupled with neglect of transit options to the job-rich regions of Orange and Los Angeles Counties have helped make the Riverside Freeway one of the most congested freeways in the country. Topographic challenges transportation planners who want to widen the freeway through this pass. On the south side of the freeway, steep slopes of the Santa Ana Mountains soar skyward while on the north side, the Santa Ana River channel and Chino Hills limit options. With protected natural lands on both sides of the freeway, this stretch of highway also remains the only place where wildlife movement can occur between the large Santa Ana Mountains and the Puente-Chino Hills.
STATUS
Riverside County Transportation Commission has released a Draft EIR to construct two additional lanes in each direction from the 91 freeway to the I-15 and beyond. The Final EIR will be released in August 2012. For more information, visit http://www.sr91project.info
QUICK FACTS
At the juncture of Riverside and Orange Counties, transportation agencies are building or planning six additional freeway lane (three in each direction). This could disrupt the functionality of the Coal Canyon Wildlife Undercrossing.
Coal Canyon underpass not only provides connectivity for wildlife movement, but it also links recreational trails in four counties.
Other proposals include flyovers connecting the 91 freeway to the north and south bound 71 freeway and a flyover connecting the 241 toll road to the 91 toll lanes.One mitigation measure will be protection (through agency acquisition) of Bee Canyon thereby providing an additional wildlife linkage between the Santa Ana Mountains and the Chino Hills.
Caltrans has not only failed to re-vegetate the underpass nearly 10 years after it pledged to do so, it has also used the wildlife underpass as a staging area for construction equipment thereby disrupting wildlife movement.