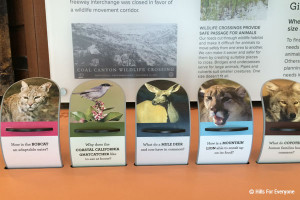 Over 14,100 acres have been protected on the eastern side of the hills as Chino Hills State Park. These lands are managed by the California Department of Parks and Recreation. Parking is $5 at the Discovery Center.
The State Park is open:
October – March: Open Daily between 8 AM – 5 PM
April – September: Open Daily between 8 AM – 7 PM
The Park is closed during extreme or hazardous weather conditions. All trails are closed 48 hours after the rain. Some areas take longer to dry than others; those areas may be closed for longer periods of time. Use of the trails and roads when they are still wet results in rutting, increased erosion, and damaged roadways needing costly repair. Also, all trails are closed during red flag days (extreme fire hazard days).
Updated trail information is also available by calling 951-780-6222.
DISCOVERY CENTER
This building, accessed off of Carbon Canyon Road just east of Carbon Canyon Regional Park in Brea, opened with interpretive exhibits in 2014.
ACCESS
There are four official access points into the State Park: Bane Canyon in Chino Hills, Carbon Canyon in Brea, Rim Crest in Yorba Linda, and at Coal Canyon in Anaheim Hills.
RECREATION
Learn about recreational, educational, and volunteer opportunities at the Park.
TRAIL MAP (PDF – 2.1 MB)
Download an official map of Chino Hills State Park with information on trails, vista points, and handicap accessible areas, among other things.