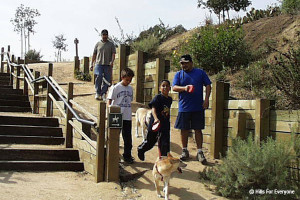 The following programs are offered on the Puente Hills protected lands:
HILLS ALIVE
Activity-based and interactive field trips for local schools only and arranged by a teacher for an entire class or grade. Programs will be geared toward grades K- 6th and are aligned with California's Academic Content Standards in Science as well as other academic standards.
DOCENT TRAINING
Do you love nature? Become a volunteer naturalist. Four week training sessions where docents will have fun while spending quality time in nature. Docents will learn about local history, plants, and animals and be trained in interpretive teaching techniques. For more information about the trainings visit www.HabitatAuthority.org.
JUNIOR RANGER PROGRAMS
It consists of an in-class session and an outdoor hike focusing on topics related to conservation, park stewardship, and wilderness skills development. Teachers are encouraged to contact Ranger Francine Godoy at 310-858-7272, extension 150 to schedule a program.
FAMILY AND PUBLIC HIKES
Take a guided hike in the Puente Hills. Learn about the plants, wildlife, history and the restoration of the Preserve. Check out our calendar for current dates/times.
RESTORATION WORK DAYS
Help the Habitat Authority to bring back the native plants and beautify the hills! Scheduled tasks included non-native weed removal and seed planting. Open to all ages. Certificates for service hours are available after completion of work day to students if requested. Check out our calendar for current dates/times.
SIERRA CLUB HIKE
Have you ever want to hike the local hills but didn't know how to get started? Have you looked up at the green hillsides in the spring and appreciated the pleasant backdrop that they provide in an increasingly crowded urban area?
The Puente-Chino Hills Task Force (PCHTF), a group within the Sierra Club, organizes the hikes. The PCHTF is working towards the preservation of the Wildlife Corridor as a respite of beauty and biological significance in a sea of urbanization. The hikes should appeal to people who want to stay in shape, are eager to enjoy the outdoors, and want more information about their hills and wildlife.
For more information visit: www.SaveTheWildlifeCorridor.org. We also publish their hikes on our calendar.
TRAILS TO BE
The Puente-Chino Hills Wildlife Corridor is not just for animals – it's for people too. As more properties are purchased and opened to public access, the recreational opportunities will improve. Our goal is to complete a continuous trail, the Wonderland Trail, across the entire Corridor from Whittier to the Santa Ana Mountains. This trail will be 31 miles long as the eagle flies, and a much greater distance on the ground.
The Wonderland Trail will intersect the Santa Ana River Trail at the Riverside Freeway in Yorba Linda. At that point, options will include a hike/bike eastward on the Santa Ana River Trail toward the San Bernardino Mountains, a hike/bike southwest on the same trail to the Pacific Ocean, or a hike into the Santa Ana Mountains which connects southward to San Diego County.