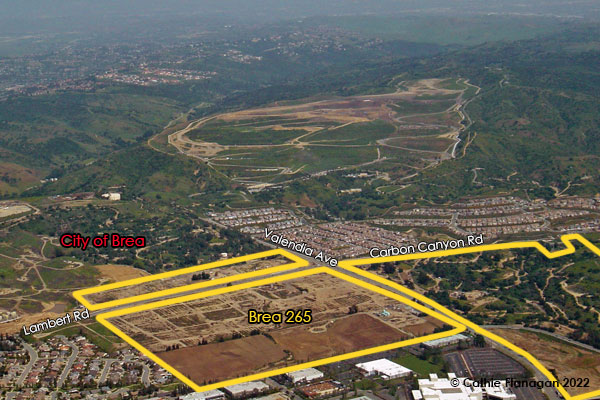 This project lies both in an unincorporated portion of Brea and in the city limits of Brea. Aera Energy has taken its project to the City of Brea for approval and is asking to be incorporated into the city limits.
STATUS
The Draft Environmental Impact Report (DEIR) comments are due April 22nd.
The project applicant (Aera Energy) is asking for approval of the DEIR, development agreement, a General Plan amendment and rezoning to change the Hillside Residential designation and Single Family Residential zoning to a Brea Specific Plan.
The Brea City Council approved the project on July 19, 2022.
QUICK FACTS
Brea 265 is the largest housing project ever proposed in Brea.
This project proposes 1100 units on a 262-acre site currently used for oil and gas production.
Proposes access to the project would be onto Valencia, Rose, and Lambert Roads. No access is proposed onto Carbon Canyon Road.
The Project would construct up to 450 low-density units and 650 medium-density units at an overall total of 1,100 residential units and average density of 4.2 dwelling units per acre.
There would also be 76 affordable units.
Approximately 15 acres of parks and recreation uses (including trails and a 13-acre sports park) and 47.5 acres of open space are included in the plan.
Remediation of all oil wells and oil production facilities would occur prior to any construction.