Another announcement for progress being made at the State Park. We partnered with the Chino Hills State Park Interpretive Association and Department of Parks and Recreation to design, get approval for, and (today) start the installation of the three new Welcome to Chino Hills State Park signs. The will be located at the Bane Canyon entrance (Chino Hills), Lower Aliso Canyon Trail entrance (Corona), and at the Discovery Center at the Telegraph Canyon Trail (Brea).
The goal was to provide information on what is and isn't allowed, show photos of the resources, and provide some key information about the park hours, restrictions, etc. And, for the benefit of those that don't always have a park brochure handy, there is also a trail map that matches the recently completed Road and Trail Management Plan showing approved trails. We had to leave before the concrete set and didn't get a photo of the sign actually up, but we will tomorrow! Stay tuned!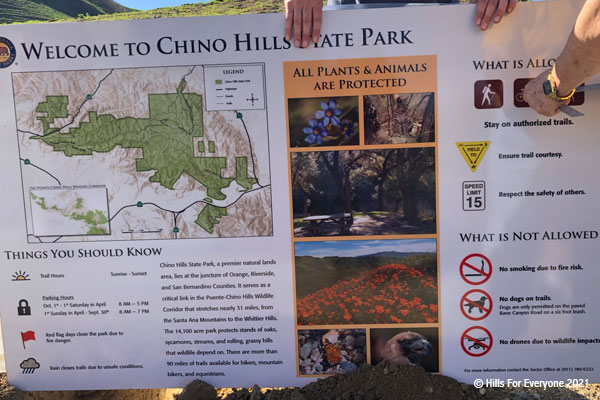 View our Facebook post for more photos.