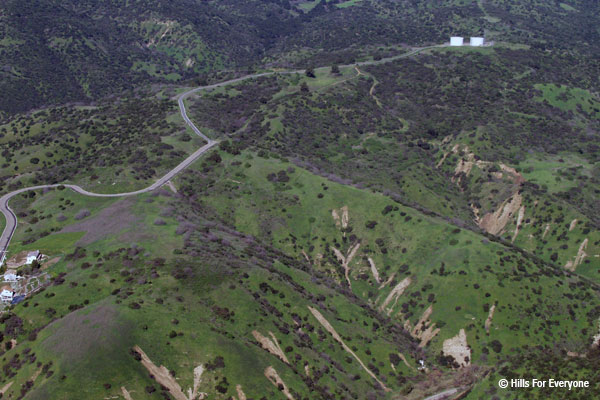 These 367 acres are on the ridges and hills north of Carbon Canyon Road, spanning from Olinda Village eastward to the San Bernardino/Orange County line within the City of Brea's jurisdiction.
STATUS
The California Supreme Court denied the developer's request for review.  The City will now need to be ordered by the Superior Court Judge to revoke all approvals it granted for the project in June 2014.
The 4th District Court of Appeals ruled October 17, 2017 in Hills For Everyone's favor stating the project violated the City of Brea General Plan (Woodland Protection Policy) and grading requirements in the Carbons Canyon Specific Plan. View the Court's Decision.
The State of Idaho has appealed the decision on February 19, 2016 to the Appellate Courts.
Judge Ross of the Superior Court of California overturned the project approvals on November 3, 2015.  View the Minute Order.
Hills For Everyone's Opening Brief was filed December 22, 2014, and is likely to go to trial in the summer of 2015.
The project was approved by the Brea City Council in June 2014 with a 4-1 vote (Simonoff opposed) and Hills for Everyone filed a lawsuit in July 2014.
QUICK FACTS
At the northern edge of Orange County, this hill top property can be seen from most of Orange County and is easily identified because of the two white water reservoirs atop it. Houses are proposed to surround the water tanks.
A 165 version of the project was approved by the Brea Planning Commission in June 2008 and then appealed to the Brea City Council.
Before a decision could be made, the November 2008 Freeway Complex Fire burned the site down for the fourth time in 30+ years thus stalling Council consideration.
The original owner (The Shopoff Group) was foreclosed on in August 2009 and the new owner, Old Standard Insurance, is also in receivership. The State of Idaho appointed a trustee to continue processing the project.
Idaho renamed the project Madrona, reduced it by three units and pursued approval of the project starting in December 2012.
Due to a 2002 legal settlement agreement with the landowner, Brea has to process the project using rules that were in effect when the project application was deemed complete in 2000. These rules are now over 25 years old and all have been subsequently revoked and therefore cannot even be amended.
Despite an outpouring of public opposition and documented problems with the project, the Brea City Council approved the project in June 2014.
Hills for Everyone, Sierra Club, Friends of Harbors Beaches and Parks and the California Native Plant Society filed a lawsuit in July 2014.
The lawsuit maintains that Brea violated state and local planning laws and that the environmental documents were faulty.
To get more information on this portion of the Puente-Chino Hills Wildlife Corridor, please visit our other website devoted to Stopping Madrona.